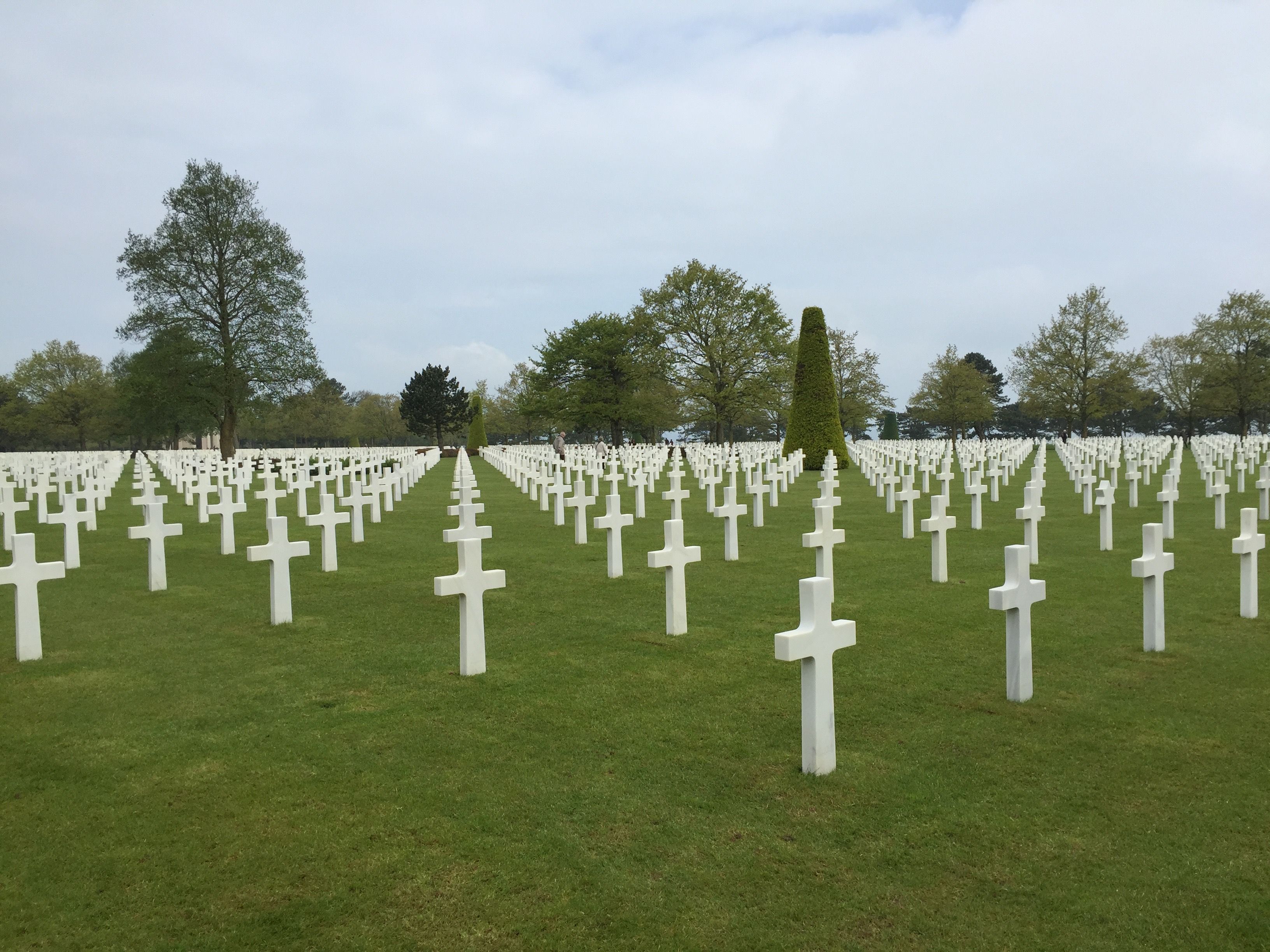 A few years ago I decided to do one of those things that you do when you get a few decades under your belt; I wrote my "Bucket List".  For those of you unfamiliar with the term a bucket list is simply a list of things you would like to do before you "kick the bucket".
I had to give some careful thought to some of the items I would place on the list. From the beginning, however, I knew what the number one item on my list would be.
I wanted to travel to Normandy, France and the D-Day beaches.
In May of 2017 I fulfilled that dream.  Thanks to the persistent urgings of all my family, my son Joel and I made the trip to France and for a few short days I tried to absorb as much of the amazing history of those few miles of the Normandy coastline as I could.
On the flight home and the weeks to follow I tried to process what I saw and learned.  I asked myself how, if at all, that trip had changed me.
The overwhelming thought that dominated my mind as I spent my time in Normandy was this;  
I had walked where heroes walked.
 I walked across a steel girded bridge that once spanned a narrow canal at a place called Benouville. Today it is known as Pegasus Bridge. There, at 12:16 a.m. on June 6, the first of three wooden Horsa Gliders quietly descended from the sky and deposited a handful of men from the British 6thairborne division, making them likely the first allied soldiers to touch French soil on D-day.
Their job was daunting and vital. They were to storm this bridge and a companion bridge 400 yards to the east in an effort to secure the left flank of Operation Overlord, the invasion of Nazi occupied Europe. They were to take the bridge as quickly as possible and intact and they did just that.
The original bridge, the bridge that stood there on June 6th, 1944, has been moved and now sits a few hundred yards away on the grounds of a museum. The bullet holes left by the brief but furious battle are still very visable. I stood on that bridge. I stood on what would have been the west end where a young man, Lt. Den Brotheridge –a likable 24 year old with a pregnant wife at home–led his men in a charge across the bridge and was felled by a machine gun bullet, likely becoming the first allied soldier to die at the hands of the enemy.
I walked where heroes walked.
I stood on a little strip of sand that is now a favorite place of picnickers and swimmers but on June 6th, 1944 was a place of death and agony. Today it is known as Omaha Beach. I looked up and down that 5 mile stretch of sand and stone, from the grassy knolls at the East end toward the bluffs of Pointe Du Hoc on the west. I tried to imagine the horrible scenes that were common on that June morning as the water literally turned red from the blood poured out by the dead and dying.
I walked where heroes walked.
 I stood on another beach just a few miles to the west of Omaha, where a 56 year old general came ashore with his men because he insisted—over the objections of his superiors—that they should see him leading the way. The son of one President and the cousin of another, and plagued with arthritis that forced him to use a cane, Theodore Roosevelt, Jr. would not hide behind privilege or age. He led the way onto Utah beach.
I walked where heroes walked.
I stood on those cliffs known as Point du Hoc amidst the ruins of German gun emplacements and the deep craters caused by Allied bombing and tried to imagine how the young American rangers could possibly have scaled the nearly vertical rocks under relentless enemy fire to capture their objective. But they did.
I walked where heroes walked.
I stood in the town square at Saint Mere Eglise and gazed up at the peak of the Cathedral there where a parachute and the replica of a parachutist hangs, just as it did on June 6thwhen John Steele hung there at watched his fellow paratroopers slaughtered as they landed in the square or hung in the surrounding trees.
I walked where heroes walked.
I walked through a field in the French countryside adjacent to a home known as Brecourt Manor, immortalized in the book and film series Band of Brothers and where Dick Winters and Easy Company of the 101stAirborne division used a textbook strategy to take out four German artillery pieces that were terrorizing Utah beach 3 ½ miles away.
I listened as the current owner of Brecourt Manor told us the "real" story of the fight, as he had heard it around their kitchen table from his father, grand-father, and Dick Winters.
 I Walked where heroes walked.
I walked the cemeteries. I walked the American Cemetery on the bluffs above Omaha Beach that through sheer courage and determination were liberated by the Allies before the end of the day and have since become the final resting place of thousands of those same men.
I was stirred to chills and tears as the sound of taps rolled across the 10,000 crosses and Stars of David.
I walked the German Cemetery which stands in stark contrast to the American Cemetery. There is somehow a darkness that hangs over it. Far, far fewer visitors come there as if they want to forget these men.  Still, I stood there thinking, "Their mothers wept for them as well."
I walked where heroes walked.
And I wept. I wept as I sat alone in a small viewing area watching a video of mothers holding dead children caught in the crossfire, of French women kneeling over the bodies of slain American service men and weeping as if that boy was their own.
I wept at the sheer insanity of war yet all the time realizing its absolute necessity.
Indeed, I walked where heroes walked.
When it comes right down to it, however, I could not avoid walking where heroes walked, for every inch of Normandy was a battleground on June 6thand the weeks that followed.
So as I flew home, as I processed the previous days' sights, sounds and insights, an important thought re-occurred. I walked where heroes walked on that sacred ground in France, to be sure, but in another way, in an even more important way, I always have.
I grew up in small farm town in northern Illinois called Walnut. I spent my first 55 years there. The 1950s held my childhood and the 60's my adolescence.  My life was consumed with baseball and music and girls. I never stopped to consider that I was walking in the company of heroes.
When World War II had come, the boys of Walnut went to war. They did their duty and when it was over, most of them came home.  They went from the cornfields to the battlefields and back to the cornfields. They served without hesitation, without fanfare, and without complaining. They did their duty and when that duty was finished they went back home, right back to the life they had left.
As I grew up in the 50s and 60s I did so with little awareness of those times or of the courage and sacrifice of those boys, then pushing middle age.  Little was said about the war.  Oh, now and then I might catch a smattering of conversation between my dad and one of the many veterans that were part of his daily life as they stepped back in time to share their war remembrances. By and large, however, the horrors and adventures of those years were left unshared, much like Dad's war souvenirs, tucked away in old, dusty army trunks, only to be brought out on very rare and special occasions.
I experienced these men daily in the town I loved although I didn't necessarily think of them as heroes. I only knew them as Roy, Arden, Bobby, Wally, Buck, and Volley, to name a few.  I knew them as businessmen, carpenters, lawyers, grocers and farmers. I knew them as Boy Scout troop masters, Little League coaches, community and church leaders. I knew them as husbands, the dads of my friends, my neighbors, my friends, and the man who lived just down the hall.
Indeed, I have spent a lifetime walking where heroes walked.  These men—these ordinary heroes—shaped my life and my world by their sacrifice and service during the war and well beyond.  For that I am grateful beyond words.
Today we honor our heroes, past and present, whatever and wherever they stood on the wall for freedom. We honor them and remember their heroism out of gratitude for sure, but out of necessity as well.
Should we forget—should we ever forget—God help us as a nation.
 As I continued processing all these things I remembered something else of great importance, a simple challenge my father left me with as he was dying. 
"Whatever you do," He said," Tell my grandchildren and great-grandchildren that I was a soldier."
I will do more than that, Dad. I will use whatever gifts, talents, and energy I have to tell the world what you—and the millions of others like you, have done for the nation I love and the world that depends upon us. I will do my part—and hopefully more—to keep that memory alive.
President Franklin D. Roosevelt once wrote, "Those who have long enjoyed such privileges as we enjoy forget in time that men have died to win them."
On this Memorial Day—as we remember, let us pledge ourselves to continue to remember, not just one day a year but every day of every year, not just because we are grateful but because it is so necessary.  
Our freedom—the Freedom of our nation and the world we lead—depends upon our steadfast remembering as we walk where heroes walked.